Donate to the Angela E. Grant Memorial Scholarship Fund
Remembering Dr. Angela E. Grant  
November 12, 1973 – September 20, 2010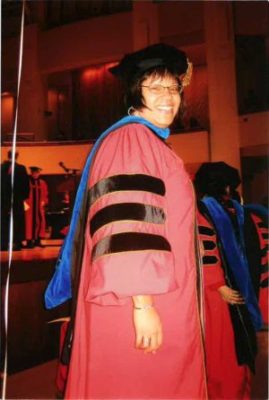 We Need Your Help
In lieu of flowers at Dr. Grant's memorial service, the Grant family chose to request donations in order to establish a scholarship fund in Dr. Angela Grant's name. We hope to continue expanding the Dr. Angela E. Grant Memorial Scholarship program. It is our wish that we will be able to grant scholarships to deserving students for many years to come.
Please support our ongoing efforts to remember Dr. Grant with this scholarship fund. Our goal is to honor her memory by supporting students who display leadership, exemplary character, involvement in community service and who have also been affected by cancer.
If you've already donated, thank you very much. We hope you will continue to donate to the fund annually.
If you have not donated, we hope you will consider doing so today or in the near future. We are actively pursuing 501 c 3 status so your future donations will be tax deductible. You can donate online using the button on this page:
Or send your donations via check or money order to:
Dr. Angela Grant Foundation • 3422 Business Center Drive, Suite 106 #1315 • Pearland, TX 77584
*Checks or money orders should be made payable to Dr. Angela Grant Foundation.
We appreciate all donations given at any time. However we respectfully request that donations are made no later than March 1 of each year in order to benefit the current year's winning applicants.
Thanks so much!
Over $10,000 HAS BEEN AWARDED TO DESERVING STUDENTS SINCE THE FUND BEGAN!
One student, Toni K. is pursuing a public health degree at Harvard University with aspirations of traveling to Kenya to help control  and diminish the spread and effects aspirations of traveling to Kenya to help control  and diminish the spread and effects of AIDS. Jasper H. began her freshman year at the University of Cincinnati to pursue a biology degree.  After receiving the award letter, her father called the Dr. Angela Grant Memorial Scholarship Fund and stated Jasper's mother had just undergone a double mastectomy and would soon be preparing for chemotherapy treatment.  He expressed sincere gratitude for the monetary assistance to support his daughter's education amid the stress of his wife's declining health.

Another winner, Morgan C., attends the Illinois Mathematics and Science Academy with aspirations of becoming a gynecologist and obstetrician.  Despite her mother's breast cancer diagnosis last year, Morgan took a missionary trip to Kenya and served as a tutor for the Summer Enrichment for Academics in Mathematics and Science program. She plans to continue her education at the University of Michigan.