About Dr. Angela E. Grant
Remembering Dr. Angela E. Grant
November 12, 1973 – September 20, 2010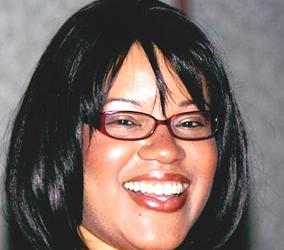 Many would describe Dr. Grant as . . .
The Game Queen
Optimistic & Fun-Loving
Spiritually Aware
Breast Cancer Warrior
An Avid Cincinnati Bengals Fan
A World Traveler
Angela Elyse Grant, was born to Levertis and Emille Grant on November 12, 1973 in Wayne, Michigan. Her family enjoyed loved ones and good friends in Michigan before moving to the community of Springdale in northern Cincinnati during the summer of 1976. Angela had fruitful years in the Princeton City School System, graduating from Princeton High School in 1991. She initiated a special tutoring program while at Princeton involving older students assisting the young, and she also proudly became the first African American at Princeton to receive the National School Orchestra Association (NSOA) Award. Her formal education continued at Florida A&M University where she was awarded a Bachelor of Science degree in 1995 (earning an award for the highest GPA among graduating seniors). Pursuing her love for learning, she continued her education at the University of Michigan and the University of Maryland. Six months after being diagnosed with breast cancer, Angela persevered to earn a Doctor of Philosophy degree from Maryland specializing in Chaotic Dynamics, a division of Mathematics.